We've been independently researching and testing products for over 120 years. If you buy through our links, we may earn a commission. Learn more about our review process.
The 11 Best Light Therapy Lamps for Winter 2022
These devices may be key to enjoying restored sleep and productivity on cold, dark days.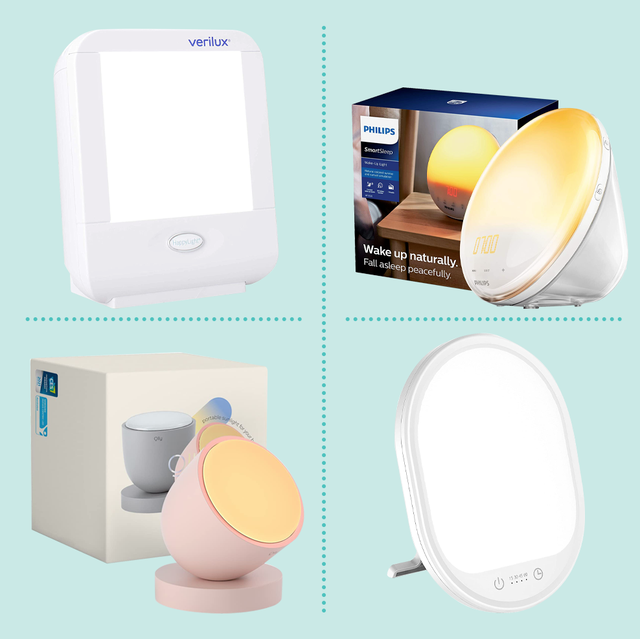 ​​Light therapy is often the first line of treatment for those grappling with seasonal affective disorder, otherwise known as SAD. But more people are increasingly becoming interested in light therapy to combat the effect that blue light and electronic glare have on sleep routines on dark winter days. What many don't know is that they're already prescribing to elements of modern light therapy, also known as bright light therapy (BLT) to experts — including gravitating towards a sunny window to feel more alert, or heading outside if you're feeling unmotivated or desolate.
Light therapy is rapidly coming into focus for people who grapple with the effects of spending increased time indoors, in front of screens during work hours and away from the natural light that's meant to guide our routines. Experts often extend lighting recommendations as part of clinical treatment for SAD, including a majority of these best light therapy lamps tested in the Good Housekeeping Institute. Chief Technologist and Director of Engineering Rachel Rothman and GH editors coordinated reviews on most of the following products to ensure they met a current 10,000 lux threshold for effective BLT goals. We've marked products that don't meet this specific threshold (which you'll learn about in the FAQ section), but these smaller gadgets may be a great way to experiment with added lighting in your space.
Our top picks
Editor's Note: Be sure to discuss bright light therapy options with your doctor if you suspect you suffer from SAD or a mood disorder. There's little risk in trying light therapy devices at home for most people, but those with pre-existing conditions may have adverse reactions to light boxes, which is why it's crucial to discuss it with a care provider first. For more info on depression and how to get help, visit the Anxiety and Depression Association of America.

Best White Light Therapy Lamp
Day-Light Classic Plus Bright Therapy Lamp
Best Compact Light Therapy Lamp
HappyLight VT10 Portable Light Box
Best Light Therapy Alarm Clock
SmartSleep Connected Sleep and Wake-Up Light
How we choose the best light therapy lamps

The Good Housekeeping Institute experts put leading light therapy options to the test to find the best products to buy for your home — plus, we've used a tester panel to get real-world feedback. When testing light therapy lamps, boxes and other gadgets, we evaluate their performance based on lighting functions and how easy they are to manage at home. Our evaluations are based on the product's versatility and functionality in the home alongside other smart devices, but aren't a measure of its efficacy on your health (a separate conversation you should have with your doctor). These picks are from top-performing brands, and also include newer models with rave online reviews. Whether it's your first time introducing light therapy into your space or you've been using lightboxes for years, these devices will seamlessly blend into your home to bring more brightness to your surroundings.
What is seasonal affective disorder (SAD)?

Put simply, SAD often presents a pattern of depression-like symptoms that hinge on changing seasons, a clinical term to largely describe "winter blues" that may require more targeted treatment. Mariana Figueiro, Ph.D., an architecture professor and director of the Rensselaer Polytechnic Institute's Lighting Research Center, tells Good Housekeeping that a lack of exposure to sunlight can produce varying effects on people in all seasons (even though SAD primarily affects people in the winter). "Light is just like diet and exercise; it's something we need for optimal health," Figueriro explains. "We tend to think that because we can see clearly in a space, we're getting enough light for the biological clock, and in general, we're not. "Some may feel less energized or have a hard time focusing without access to sunshine, especially if their sleep routine is being affected. Light therapy, then, is often based on reconfiguring lighting conditions in your home or office, and with the guidance of a healthcare provider over time, the introduction of supercharged lamps and therapy boxes that mimic natural outdoor light. These efforts can help regulate our circadian rhythm, influencing how easily we wake in the morning and how fast we fall asleep at night.
How many Lux should a SAD lamp be?

For those suffering from SAD, light therapy efforts have been clinically shown to work to alleviate symptoms, which include anxiety, mood swings, insomnia or sleep deprivation. Light therapy may also work to combat depression risk and other conditions, including jet lag, if the device is engineered to meet current clinical standards. At first, you'll work to directly sit near a light therapy box and incorporate it into your daily routine; and these gadgets should be bright, delivering light at around 10,000 lux, according to the National Institute for Mental Health. When it's time to stop working and get ready for bed, you'll turn it off or adjust it entirely, among other sleep-boosting initiatives.
Why trust Good Housekeeping?

The Good Housekeeping Institute provides expert reviews and advice on all products designed to boost overall wellness, including light therapy lamps. Testing for this guide was partially overseen by Rachel Rothman, chief technologist and director of engineering in the GH Institute. Rachel was born into a family that owned and operated a consumer electronics distribution business for over seven decades. She has since tested just about any consumer tech gadget, ranging from computers, TVs, smartphones, smart home products and more. She regularly appears on morning shows like 'TODAY' and 'Good Morning America' to report Good Housekeeping's test findings in this category.

In his role as Health Editor, Zee Krstic works hand in hand with analysts in the Good Housekeeping Institute to highlight consumer-facing input from leading health experts; he interweaves doctors' and healthcare providers' expertise into shopping guides to better educate readers. He also independently reviews new products in the wellness space for Good Housekeeping, which he has done previously for Martha Stewart Living and Cooking Light.